Blog
Welcome to my blog; as of 24th July 2017. I will be writing a blog on my experiences thus far; any projects that I am undertaking and any other design or art related subjects I feel the urge to write about. I have also placed my Twitter feed/Tweets to the right of the screen should I not get around to writing on here straight away and this helps to keep abreast of any new work I will be uploading to my stores.
25th October 2019:


I now have new artwrork on NOIR Gallery; five more pieces were selected of my digital abstracts. I now have a total of 12 pieces on my artist's profile.
14th August 2019:


I am very pleased to say that my artist's profile is now available to view on the NOIR Gallery website. I presently have seven pieces and hope to be adding more in the future.
9th August 2019:


I am now collaborating with NOIR Gallery in New York; as of today there are four pieces of my artwork available to view when searching my name on their website. I will have seven available once all of my artwork has been placed on the Noir Gallery website, which I hope to continue to add to. Once all my artwork is added I will be listed within the artists tab.
12th June 2019:


I have for the past few months been adding new designs to my online stores; Scandinavian style designs, which will be found on my Gallery page.
15th March 2019:


Society6 have now introduced an all new outdoor selection; picnic blankets, outdoor floor cushions, sling chairs (deck chairs), folding stools and welcome mats. Please view my designs on these products on my Society6 store - I will be working my way through my designs to add those that suit the outdoor selection. I have also taken one of my older designs (Abstract Flowers) and added a new spin to it. All new colour-ways and made up of line art rather than block colour. This style happened to suit the new outdoor products.
18th September 2018:


I have not had a chance for a while to enter anything into my blog
.
I've been busy adding designs to my online stores - in particular Society6 who have added a number of new products; wallpaper, wall murals, trays, coasters, cutting/chopping boards and most recently and very exciting; furniture - bench, coffee table, side table, credenza (cupboard).
I am now also collaborating with 3DRose and many of my designs can be purchased from them - either via their website or via their store on Amazon (amazon.com). Please note that it is only 3DRose and my my online shops (CafePress, Society6 etc as on my shop page) who will post my designs for sale on Amazon. Any other stores or individuals selling my designs via Amazon are not allowed by me and I do not receive royalties from them; in particular stores based in China.

19th March 2018:
I have been busy adding new designs to my online stores - including a new damask design below on a china and standard mug; on most other products available on Zazzle also, plus the design is also available on my Cafepress, Sociey6 and Redbubble stores. I have also placed below my most recent poster design for a choral society back in my old home town:
Feuille Damask
(images from Zazzle; on china mug & standard mug - also on most other products)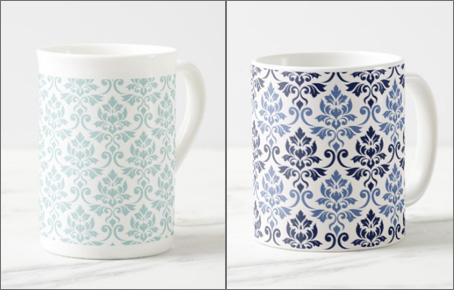 Poster Design
(Sittingbourne Orpheus Choral Society); brief to include an illustration of an ark as they would be performing Captain Noah & His Floating Zoo.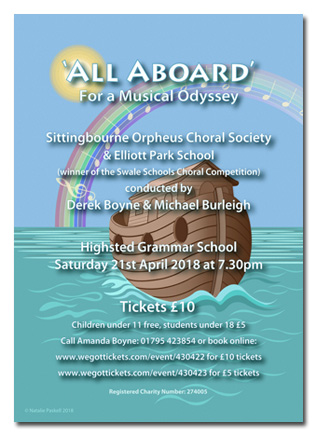 5th December 2017:
I have created a new colour-way of one of my older designs; the Scroll Damask, which I have now placed on both Zazzle & Society6 and will be also placing later on CafePress and Redbubble. I have used a vintage style colour-way and an outline to allow for more colours to be included in the design. I have placed below a few of my designs from Society6 (to view this please go to my Society6 store page). The sample image below is of a few items that have my new design on.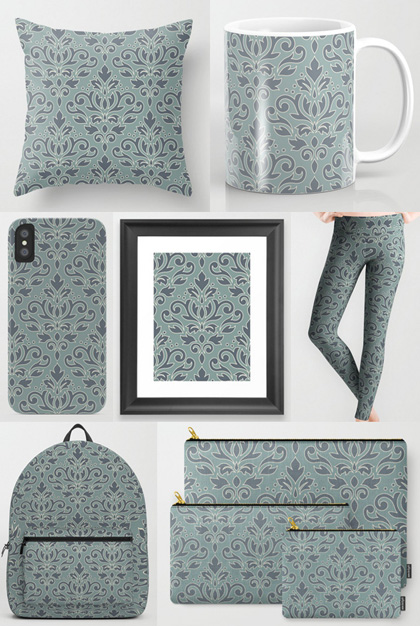 18th November 2017:
It has been a little while since my last entry and I hope to keep more up-to-date with my designs. However I've been busy working on new colour-ways to existing designs and adding new designs to Zazzle, CafePress, Society6 (where they have recently added backpacks and now duffel bags to their product items - I am applying most of my surface pattern designs to these) and have been trying to include all my best designs to date also to Redbubble. It can be a slow process applying all designs seperately to products.
My designs are also accumulating on Spoonflower, which over time, I hope to extend.
Early this week I completed the 22nd project including 20 poster designs for a choral society in my old home town of Sittingbourne in Kent; a client I have had for seven years, which I place below. I have created a small version of the town as a skyline, with Santa above, a stylised Christmas cracker and I have created my own scripted typography of the word Christmas. For the rest of the design I have used my favourite typographer Carol Twomby's fonts (which I have applied bullet points to as an illustrated Christmas tree, bell and bauble).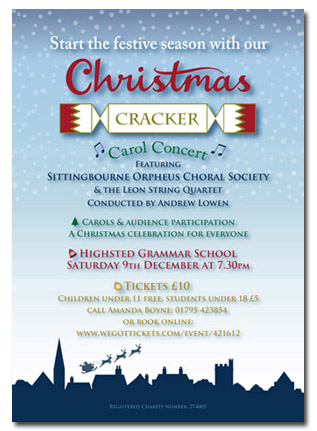 28th July 2017:
I have just received a mouse mat proof of my Scroll Damask Art I design grey on black and will be placing these for sale soon, please send me a request if you would like to buy one (£14.99 including post & packaging, which will need to be signed for); 234 x 195mm (depth 3mm), polyester and foam. Please also send me a request should you like to purchase my designs on other products and I shall look into print and costs etc...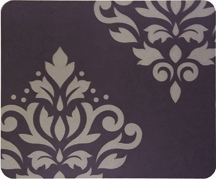 25th July 2017:
I have just ventured into obtaining prices for items such as fabric, throw pillows/cushions, mugs, coasters and mouse mats/pads printed in England and hope to offer some if not all on here in due course. This offer will only apply to the UK for postage reasons (customs duties). To UK customers; please let me know if there is a particular item of interest and I may be able to get it produced. For now I hope to soon be offering mouse mat/pad designs.
24th July 2017:
I have recently placed some of my surface pattern designs on Spoonflower for sale on fabric, wallpaper and gift wrap and also on other products such as chairs and clothes via their sister websites; the Roostery and Sprout (so far; Assorted Leaves, Scroll Damasks, Decorative Damasks):
https://www.spoonflower.com/profiles/natalie_paskell
I was approached in 2016 by a lady Denver, in the US, about placing my assorted leaf surface pattern designs on Spoonflower for sale as fabric. It took a little while with a house move and work, but this new venture has now begun. I will hopefully increase on this as time goes on, but each design needs to be proofed before it can go on there for sale. It is ordered from Spoonflower's Berlin offices, being that I am in the UK; once I have ordered and paid for the swatches and approved them, they can be placed for sale. I have found that this is essential as while all colour and both black and white are true to screen, levels of gray/grey are not (probably because of the saturation and not reflecting light; like black). So this is a new and welcome learning curve.
I have had my first orders from this site now and hopefully this will be a new venture for my designs.
My first blog entry:
24th July 2017:
I feel compelled to write that from April to November last year (2016) I spent many hours, days, in fact months, sending DMCA (Digital Millennium Copyright Act) Notices to Amazon (.com & Canada, UK, Spain, France, Germany, Italy); eventually listing over 3000+ intellectual property/copyright infringements to them; their many sellers had stolen my artwork and in fact my product images from Zazzle, CafePress and Society6 and were using my product images to sell my designs (also stolen from the same websites by screen shots of my designs) on their throw pillows/cushions, phone cases, canvas art, laptop sleeves, mouse pads, doormats, bathmats, towels etc...the list goes on...
I had been initially contacted by another Zazzle designer who had the same problem and had seen my product designs on Amazon, with numerous other designers' work. Telling me that artwork is stolen (mainly from Zazzle designers) en-masse and placed on Amazon for sale as the Amazon seller's own.
Initially I was met with a brick wall from Amazon, asking me to prove my ownership with a patent. Patents are not applicable to 2d designs. Copyright happens on creation by the artist/designer not by registration. Luckilly I found out about the DMCA Notice, but after sending this numerous times, and hammering on the proverbial door of Amazon on a daily basis, to take down the infringing items (which was often a battle), I would then see the same store holders (after Amazon had taken down the items) allowed to continue their sales with other stolen designs and in fact then place other designs of mine for sale (sometimes the same images that had been removed were added again). Unfortunately I can not keep up with trying to take down items on a daily basis (I have to sleep, eat and work also!) when it is not being dealt with properly at source. So for now I have to deal with many factories in Hong Kong and China and some in the US profiting from my labour and ideas. I spent literally hours that became months tackling it, but it was too much. Another designer said it was like the game 'whack a mole' - as soon as one was down another popped up (times that by 100 and it will give you some idea of the immensity of the problem).
I hope that if anyone sees my artwork on Amazon for a ridiclous cheap sum of money - sometimes as low as £3.50 for a throw pillow/cushion (they particularly like to steal those of my designs), they may consider that the item is not quite kosher and that there is a designer somewhere being robbed from. On the other hand one UK seller was selling my mouse pad/mat design for £45!!! Unbelievable! Especially when he probably bought it for 50p from a factory.
The whole experience was causing such stress that I had to stop and one of the most irritating things was that the online Amazon advertising was offering me my own designs (having been viewing Amazon to collate the item information for the DMCA Notices). Unfortunately it is up to the individual designer to collate all the evidence (item number, link to stolen item, original link of stolen item), which is a mammoth task for even a business to undertake.
Generally I make 10% on most items I sell via my online stores (20% on Redbubble), so the cheap product being bought is not only stealing my work, my designs, my intellectual property, my ideas, my concepts, my thoughts, they are thieving the ability I have to earn that 10% from my designs. Apparently from most blogs I have read on this subject - the products are in poor condition and of course the images they print will also be poor, being that they take the image from screen shots of the designer's work (not full resolution that I set for print). It is a major problem, but I do not have my life to dedicate to it, so I have to ignore it and hope that at some point the corporations deal with it in a better fashion by removing sellers who continue to break and in fact flout copyright law.
No doubt I will on occasion feel so irritated by all the thieving of my designs that I shall have to send the odd DMCA Notice and hope that it does not become an obsession once more.
________
Previous posts from my News & Updates articles:
News & Updates

I have recently opened a store/shop on Spoonflower and am selling my seamless surface pattern designs on fabric, wallpaper and gift wrap - please view my store; new designs are being added all the time:

https://www.spoonflower.com/profiles/natalie_paskell

My Fall Color Assorted Leaf Silhouettes print has been selected to be sold in the Society6 Shop (link and print below); whilst I sell my artwork via my own shop in Society6, a limited amount are selected for their own shop.

https://society6.com/product/fall-color-assorted-leaf-silhouettes_print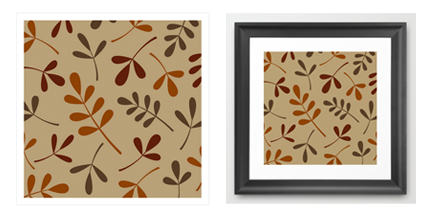 Since my previous post, two more of my art prints have been selected for the Society6 Shop;

Another colour-way of my Assorted Leaf Silhouettes print, in browns, gold and cream:

https://society6.com/product/assorted-leaf-silhouettes-gold-browns-cream_print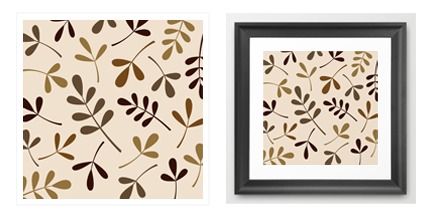 and an Aztec influenced design:

https://society6.com/product/aztec-essence-pattern-ii-red-blue-gold-cream_print