Interior Design
I have always been interested in architecture and interior design and in fact my thesis (extended essay) for my graphic design degree was on Modernist and Postmodernist architecture and its effects on society. I became even more interested in interior design after working on wall décor for Gallery Direct Ltd, a global leading wholesaler of wall decor, where I was their sole in-house designer for almost four years. I decided that I must gain knowledge and experience in interior design and completed a Diploma in Interior Design with the Interior Design Institute in April 2015, gaining a 90% score.
I have a good knowledge of design styles, furniture, lighting, architecture and architects, and design history. I can adapt to any style of design and the most important part of interior design is to create a space that specifically answers your brief. Whether the design you are looking for is classical or modern I can create a design space that suits your needs.

I can provide the following interior design services for you...
• Consultation
• Floor plan (design to scale) including furniture
• Report and mood board of the proposed interior design
(including colour scheme, lighting, furniture, flooring, fabrics, wall décor)
• 3D perspective drawing of your room design

• Source information on all paint/wallpaper, lighting, furniture, flooring, wall décor and fabrics
(soft furnishings and upholstery)


In order to understand the space as well as possible before I begin your new design, I ask that you send me photos of your room for design and detailed measurements of the space. I also will need to be told of any architectural points of interest (decorative cornices or architraves, pipework etc).

Please find below samples of room designs


Mood Board for a dining doom in a 1950s style house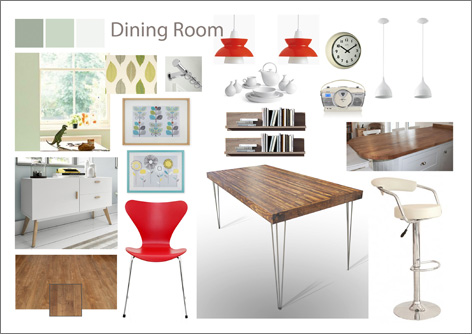 Mood Board of a study/office in a 1950s style house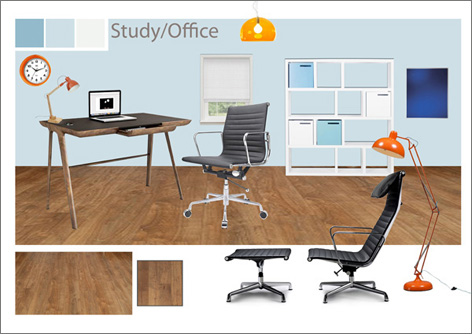 3D one-point perspective illustration of a study/office in a 1950s style house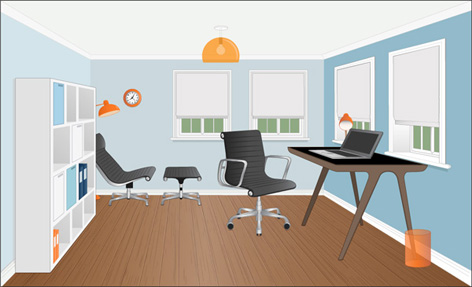 Living room floor plan with furniture & mood board
(for a multi-purpose space; living room with dining area for a couple & study area)